---
World Diabetes Day 2016

Dr. Shahadat Chowdhury former Clr of Parramatta co-hosted a walk for diabetes. This was an easy 5 km, 1.5 hours loop walk around the bushes of Toongabbie Creek. They started walking at 6:45 am from the scout hall on Edison Parade, Winston Hills followed by a breakfast and talked by the two sponsoring doctors.

This was his third year of co-hosting this walk in his council ward. Last year he attracted about 50 friends and supporters. This year he printed 10 000 flyers and distributed widely in the local area.

Here are some key points of this event.

The track is called Pemulwuy Loop, 5.6 km, 1.5 hour, following the reserve on the bank of Toongabbie Creek and Quarry Branch Creek in Winston Hills.

Walk is to increase diabetes awareness and to observe World Diabetes Day which was on Monday (14/11) this year.

Attendance was 100 including children and one visually impaired walker. They came from various sectors such as his friends, scouts, the temple next door, his other contacts, sponsor contacts, leaflet, newspaper, facebook etc. Half of the attendees came without knowing him which was a great success.

They raised $880 for Diabetes NSW this year.

This is 3rd year running. He is co-hosting it from the beginning 2014. The original idea was born between Dr. Shahadat and Susai Benjamin. This was his council area and he knew the walk. He invited his counterpart Ryan Tracy later.

This year's hosts/organisers are himself, Clr Ryan Tracy, Clr Susai Benjamin and Fr Clr Prabir Maitra. The host share the cost of the breakfast.

The sponsors were Bridge View Medical Centre Toongabbie and Windsor Road Family Practice in Winston Hills. Sponsors paid for the printing and distribution of 12,000 leaflets.

They attracted at least 3 newspaper publications on the preceding week (Hills News, Parramatta Sun and Northern Times).

He also ran (along with Ryan Tracy) a Facebook campaign.

He distributed flyers himself at Toongabbie Station.

They are planning to start a monthly walking group. Anyone interested should contact him.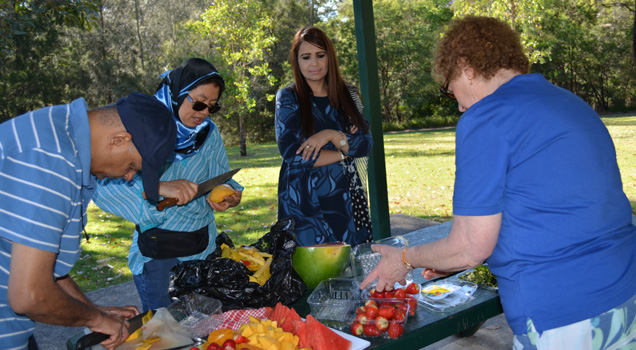 ---
Copyright © 2009, www.sydneybashi-bangla.com. All rights reserved.